Laatst had ik een enorm leuke date bij Het Haartheater. Dit keer niet om mijn uitgroei op te lichten, maar om een behandeling van Philip B te ervaren. Als Hollywood's bekendste haar-expert was Philip zo'n 25 jaar geleden de eerste 'hair alchemist' die zelf zijn eigen vegen, organic producten ontwikkelde. Zijn liefde voor pure essentiële oliën vertaalde hij door naar top notch producten voor haar- hoofdhuid en body. Zo zorgt pepermuntolie in zijn shampoo voor een liftend effect, en kent Philip de kracht van natuurlijke aminozuren als bouwstenen voor je haar als geen ander. Maar Philip kan nog veel meer informatie over je algehele gezondheid afleiden uit je haarconditie…   
Haarexpert Philip B legt uit: dit is wat haaruitval en een ijzertekort met elkaar te maken hebben
Volgens de Amerikaanse Vogue geeft Philips Four Step Hair & Scalp Treatment" je het haar van een heldin in een roman" en volgens Forbes Magazine zijn zijn producten één van de "100 dingen die elke cent waard zijn." Zijn beroemde natuurlijke brouwsels hebben de manier waarop de wereld aankijkt tegen luxe haarverzorging voorgoed veranderd. Wat mij meteen opviel toen ik bij Philip in de stoel zat? Dat hij veel meer zag aan mijn haar dan enkel of de puntjes wel of niet geknipt moeten worden. Al snel bracht Philip het onderwerp voeding op. "Ben jij ook zo'n vegan Karlijn? Je haar valt namelijk behoorlijk uit als ik er doorheen kam." Een officiële vegan noem ik mezelf niet, maar de keren dat ik een stukje kip eet zijn jaarlijks op één hand te tellen. Laat staan biefstuk. "Ik zie het steeds vaker; dunne meisjes zoals jij met een ijzertekort die nauwelijks nog vlees eten en eigenlijk standaard te weinig proteïne binnenkrijgen. Een essentiële bouwsteen voor gezond haar." Daar wilde ik alles over weten. Het gesprek dat volgende heb ik voor je uitgeschreven. Inclusief een stappenplan met Philips producten die hij mij adviseerde te gebruiken voor breekbaar en futloos haar.
How do you recognize an iron deficiency through the hair Loss
Philip: Your hair cells are the fastest growing cells in the whole body, but they are also the first ones to be affected from a poor diet. Signs to look for from protein deficient diets are: hair thinning, faded hair color, hair loss such as alopecia, spots of hair falling out or all over thinning. Also brittle nails are a sign.
Which foods or supplements can help to make the hair stronger?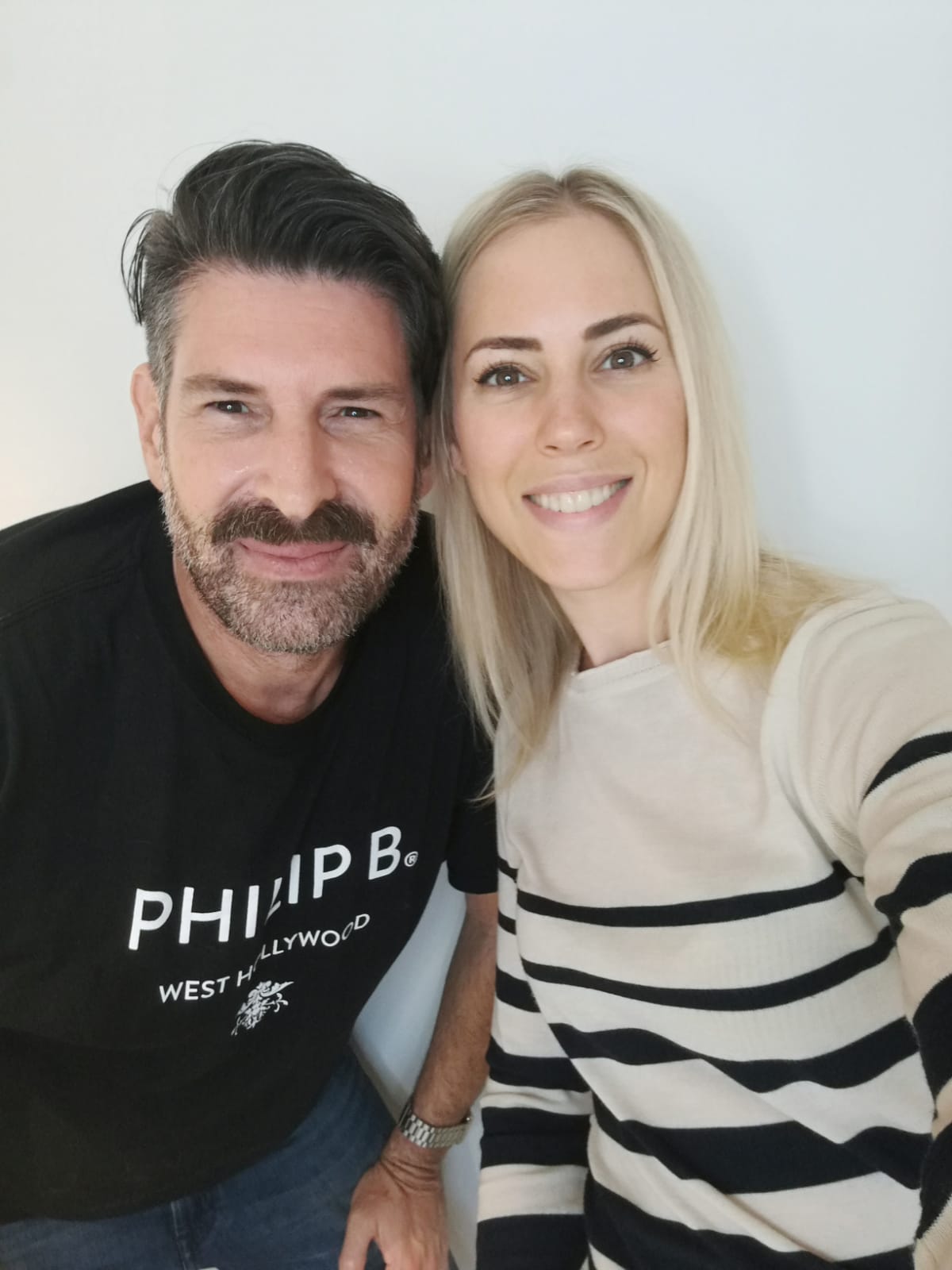 Philip: Protein is a macronutrient, you need to be sure your getting enough of it in your diet to function and maintain your best health. Your body breaks down proteins into amino acids, which are delivered to the body as fuel. When hair follicles grow they require a lot of protein and iron, so I recommend iron rich proteins such as meat (especially red meat which helps the body produce Keratin Protein which the hair is made from). But also foods that are iron-rich like green leafy vegetables, fish, nuts, eggs, beans and soy beans. Be sure to also include Vitamin C, as it enhances the absorption of iron. Hair loss vitamins like Biotin, Niacin (Vitamin B3) and minerals like Zinc and of coarse Iron supplements provide essential hair nutrients to nourish and nurture healthy, stronger and longer hair! Research says you require about 54 gram protein per day. Vegetarians may need to take in more, because the body does not absorb plant proteins as well as it does animal proteins.
Wil je niets meer missen van Holistik?
Vergeet dan niet om ons ook te volgen op Facebook!
Ga naar facebook
What is the 'special effect' of your essential oils in your products?
Philip: The Philip B. Rejuvenating oil contains essential oils such as Lavender, Geranium, Ylang Ylang and Orange peel. These oils have very tiny fine molecules. Oil dissolves heavy residue that has attached to the hair shaft such as airborne pollution, styling products, residue like nicotine. Can you remember how your hair smelled when you came out of a smokey bar? It's talking to you! Your hair picks up pollution which is airborne.
Which Philip B. products do you recommend for weak and fragile hair?
1. Philip B. Rejuvenating oil: This oil contains a well-balanced blend of carrier- and essential oils. This blend will gently dissolve unwanted residue as well as pollution from your hair and is great at dismantling dead cell build up and heavy oils from your scalp. Oiling your hair will impart lipid moisturize back into the hair shaft giving you back youthful, silky, shiny hair from root to ends. I recommend you oil your hair and scalp on an as need basis.
2. Peppermint & Avocado Shampoo: Essential oil peppermint is a wonderful deep cleansing detox. Refreshing and invigorating your scalp, think of it as reboot for your hair and scalp! Its wonderful to do a deep cleanse before using a rich and more expensive premium treatment product. Especially great if you shampoo only every 3 days or longer. Treatment Shampoos fortify and strengthen bring back health to hair and scalp.
3. Philip B. Russian Amber Shampoo and Conditioner:  This duo contains a high dose of Amino Acid Complex to breath life and strength back into weak scalp and hair, Amino Acids work on a cellular level to strengthen and repair the hair (Keratin Protein) as well as scalp zinging it back to life.
4. Forever shampoo and conditioner: Rich in Oleosomes which are the DNA of the Safflower seed. Oleosomes are cold pressed and extracted, 100% plant derived and natural. Oleosomes have a core molecule of Vitamin E and Vegetable oil that absorbs actives like amino acids which can be delivered to your hair and scalp over time after just one use. As the actives absorb into the hair, the hair plumps up! This will provide your hair with weightless strength for several days to come.
5. Finish with pH Detangling Toner: When you finish conditioning, you rinse your hair, the water you're rinsing with has a pH of seven and up: good for drinking, not great for skin and hair. Your hair and skin need the pH of 5.5 to be its best. Just like you would use a toner on your skin to tighten the pores, a toner for your hair will seal the hairs outer cuticle layer for fast and east comb-outs and giving you effortless, tangled-free, shiny gorgeous bouncy hair. De producten van Philip B. zijn in Nederland onder andere verkrijgbaar via philipb.nl.